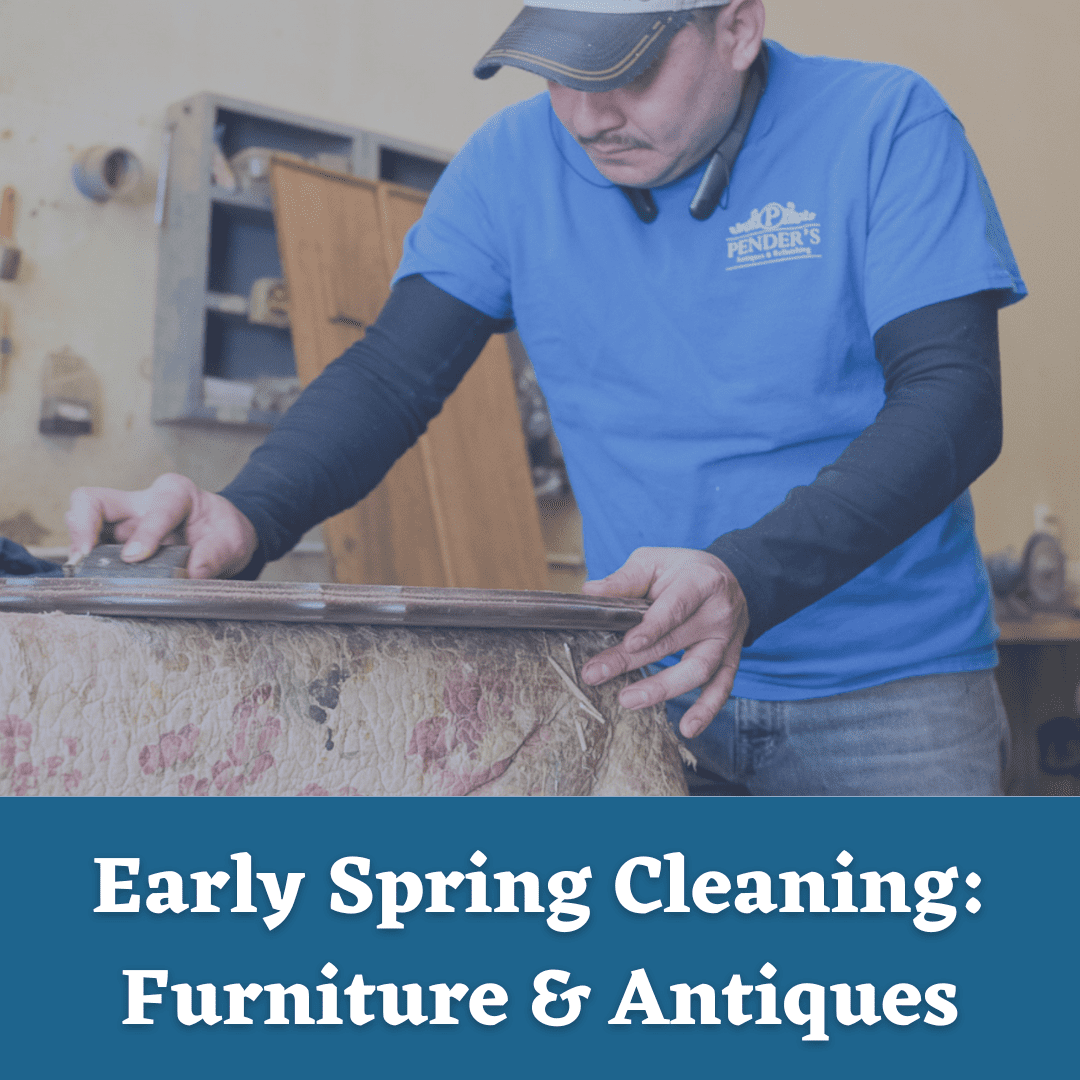 01 Mar

Early Spring Cleaning: Furniture & Antiques

Spring is almost here and it's time to start thinking about all of your spring cleaning projects that you want to tackle. We always remember to clean our home during spring cleaning, but sometimes it's easy to forget that your antiques and furniture also need a good seasonal refresh. Here are four ways you can clean your furniture and antiques this season:

Keep Wooden Furniture Out of Direct Sunlight.
Does your wood furniture not quite look the same as it did before? If these pieces have been sitting in direct sunlight, more than likely, the sunlight has started to bleach the wood. When this happens, your prized antiques can appear to look faded or discolored. If you have any wooden furniture in direct sunlight, it may be time to move it to a different spot in your house to prevent it from worsening.
2. Keep Your Furniture Protected with Polish.
When was the last time your beloved antiques and furniture looked good as new? Give your furniture some extra love this month by using wax-based furniture polish. David Pender, the Owner, suggests Liquid Gold Furniture Polish. Polishing your furniture is an inexpensive and effective way to condition and protect any of your wood antiques.
3. Refresh Your Outdoor Furniture.
Spring is almost here, which means it's time for a seasonal refresh so you can enjoy the gorgeous weather. Nobody likes sitting on dirty and grimy furniture. You can start off by taking a wet washcloth and wiping down your outdoor patio furniture. You can also take a power washer to spray down your outdoor covers and to get into any other crevices that you may have missed. If you have an outdoor table, don't forget to wipe them down too!
4. Don't Forget to Dust.
Dusting your furniture is important so that your antiques and furniture don't lose their shine over time. Try using a dry, microfiber cloth so that it can easily trap all the dust. You can also use the brush attachment on your vacuum to get those harder-to-reach spots.
Are you looking to restore or refinish your furniture? Our skilled team of experts is ready to tackle any project. Get a FREE quote today and let's get started!

SOURCES:
https://www.eatsleeplive.co.uk/blogs/features/how-to-protect-your-wooden-furniture-from-sun-damage
https://www.apartmenttherapy.com/furniture-dusting-tips-36738249